Revs and Woody
"Revs went underground and left the city for Alaska. And when he returned, his work went mostly underground, too—into the subway, where he painted long, feverish diary entries worthy of a Dostoyevsky character on dozens of walls hidden deep inside the tunnels."
How great is that? A few days ago I read a fantastic article in the New York Times Arts section about Revs, this legendary cult graffiti artist in New York whose identity is a complete mystery. Even when the reporter finally tracked him down, he had to promise to keep Revs' age, name, and image a secret. Apparently he used to be a renegade graffiti-ist ('cause the vandals took the handles… oh never mind), but then he disappeared for a while, no trace. Now he's back, with a day job as a steel worker and moonlighting (yeah!) as this hip counter-culture hero in NYC.
He's a famous name; he doesn't need to work in a steel plant. He could live off his art, rise to fame… a lot of people wonder why he doesn't.
"'To me,' he said recently, in a rare interview, 'once money changes hands for art, it becomes a fraudulent activity.'"
Yes! So righteous, so romantic and upstanding. I love it. I love this guy. I mean, shouldn't this be the viewpoint of all artists?—ars gratia artis, if you will. You will. Anyway,
here
's the NYT article, but it will be archived and therefore lost to us forever in a few days, so get it while it's hot! Update: I found a copy of the article along with a little commentary on
the Wooster Collective site
, so there ya go.
If I ever become an artist, I promise not to let any money change hands. Will paint for…chocolate?
Incidentally, I saw Woody Allen's new movie
Melinda & Melinda
(like that ampersand,
Oki
?) a couple nights ago. I…liked it. Like the past few movies I've seen, it was almost really good. Basically it's the same story—or the same basis for a story—fleshed out as a comedy and alternately as a tragedy, starring Melinda of course, as a sort-of-unwelcome houseguest who's sort of a psychological wreck. There were a few really funny parts, but all the Woody Allen lines went to Will Ferrell! (Sorry, I like you Will, but you're no aging neurotic Jewish comic. You're just not.)
The biggest star of the movie was probably the set. New York, of course, is Woody Allen's life-blood, but the apartments were pretty beautiful and elegant as well. I liked Chloe Sevigny the best of all the cast—as an actress and for her character (even though her character was a sort of spoiled philandering romantic, I liked her). Speaking of which, she was also very good in
Shattered Glass
, that splendid movie about the fraudulent New Republic journalist Stephen Glass (starring none other than a very handsome
Anakin Skywalker
! Just kidding. Sort of.)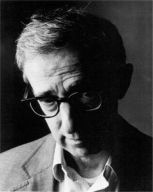 So,
Melinda & Melinda
has reminded me of some other movies you should all watch instead of it: old Woody Allen favorites like
Annie Hall
,
Manhattan
, and
Hannah and Her Sisters
or
Shattered Glass
. Next on my list to see is Jim Jarmusch's
Coffee and Cigarettes
.
Ah well, have a good night.